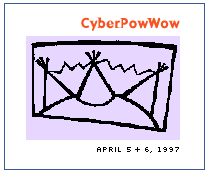 CyberPowWow
A Nation to Nation Project
April 5 & 6, 1997


CyberPowWow is an experiment that began when we realized what an awesome tool the World Wide Web is for people who want to share ideas, images and imaginings.

The first CyberPowWow was the launch of a Web page dedicated to issues of contemporary Native art. This launch, which happened on Saturday, April 5, 1997, took place in cyberspace as well as two actual physical spaces: Galerie OBORO, in Montreal, Quebec, and Circle Vision Arts Corporation in Saskatoon, Saskatchewan. On that day, people were invited to check out the new Web site, which featured new work by artists Melanie Printup Hope, Bradlee LaRocque and Ryan Rice and by writers Audra Simpson, Paul Chaat Smith and Skawennati Tricia Fragnito. All the artists and writers were on-line to talk about their work.

During the on-line chat, CPW participants realized that they liked hanging out in a Palace with other artists, writers and thinkers and and decided that it would be worthwhile to create a Palace of our own. The CyberPowWow Palace will house a virtual gallery, library, and performance space and function as a place to meet in Cyberspace to chat about the main issues on our minds. The Web page remains as an introduction, archive and how-to document.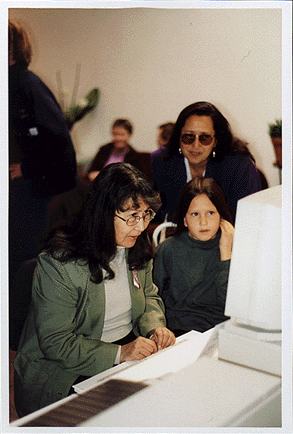 Three generations visit CyberPowWow at Oboro.