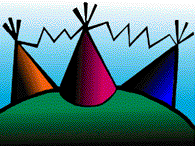 CyberPowWow 2
A Nation to Nation Project
April 17 & 18, 1999


Nation to Nation is proud to present CyberPowWow 2, a techno-weekend of workshops and on-line discussions that celebrate the opening of the CyberPowWow Palace, a graphical chat environment that allows you to talk with people from around the world in real time. Visit the virtual galleries, library and performance space to view work by First Nations artists and writers Lori Blondeau, Lee Crowchild, Skawennati Tricia Fragnito, Sheryl Kootenhayoo, Ahasiw Maskegon-Iskwew, Archer Pechawis, Edward Poitras and Jolene Rickard. All artists will be on-line to tell you about their work.

If you do not have a computer of your own, or if you just want to go to a friendly place that does have a computer with an Internet connection and ThePalace already installed, just go to one of the Gathering Sites listed here.
Gathering Sites
Five locations to serve you better!
Hosted in Montreal, Quebec by:

Galerie Oboro
4001 Berri
www.oboro.net
514-844-3250
Co-hosted in Banff, Alberta by:

Walter Phillips Gallery and The Aboriginal Arts Programme
Computer Studio, 3rd floor
Jeanne & Peter Lougheed Building, The Banff Centre
mva.banff.org/WPG
403-762-6281
Hosted in Regina, Saskatchewan by:

SOIL Digital Media Production Suite
203-1856 Scarth Street
306-522-7166 or 522-3066
Hosted in Vancouver by:

Roundhouse Community Arts and Recreation Centre
181 Roundhouse Mews
www.city.vancouver.bc.ca/parks/recreation/roundhouse/
604-713-1800
Co-hosted in Saskatoon, Saskatchewan by:

TRIBE and Video Vérité
3rd floor, 12-23rd Street East
306-244-4814